Serving Austin, Texas
Offering Kambo Ceremonies & Light Language Reiki Healing Sessions. See what our clients are saying, click here.
For pricing details, click here.
Contact Us to Book a Session or Ask Questions.
Email: help@lovekambo.com | Phone ‪(‪512) 843-3731‬
WHAT ARE BENEFITS OF KAMBO?
KAMBO ACTS ON THE WHOLE BEING: BALANCING MIND, BODY, SPIRIT, AND EMOTIONAL REALMS, RETURNING THE SUBTLE ENERGY BODY INTO HARMONY
In the Amazon Rainforest, this medicine is known to bring happiness to those who take it, to bring luck, and to unblock and circulate the heart chakra among many other benefits. Removing "panema", which is loosely translates to bad energy or anything that dulls a person's experience of joy, peace, and prosperithy such as depression.
Benefits being:
More energized
Increased vibration
Enhanced mood
Increased strength & endurance 
Pain relief
Boosted Immunity 
More focus
Reduced Anxiety 
Removal of toxins
Better sleep
Feeling lighter
More motivated
Research conducted since the 1980s has shown the chemical makeup of kambo to contain short chains of amino acids, known as peptides, that affect gastrointestinal muscles and blood circulation as well as stimulate the adrenal cortex and pituitary gland in the brain. While there are no clinical studies that definitively back up kambo's efficacy, the properties of kambo peptides suggest it may be a promising treatment for the following conditions:
Depression
Anxiety
PTSD
Migraines
Addiction
Fatigue
Chronic pain
Blood Circulation Problems
Autoimmune Diseases
Organ diseases
Cancer - Tumors
Kambo Also Provides Transformational Support With:
Reinvigorating inspiration and creativity
Clearing Blocks and getting unstuck
Grieving
Resolving childhood trauma
Self-destructive behavioral patterns
Navigating big life transitions
Cultivating self awareness
Shifting perspective
Defining goals and how to achieve them
Letting go of attachments that no longer serve you
Cancer - Tumors
Full Benefits of Kambo
What is Kambo?
Kambo (Phyllomedusa Bicolor Frog) is a natural non-psychoactive secretion produced by the skin glands a bright green tree frog native to the amazon regions. This Medicine is well known as the "vaccine of the forest". It's most easily understood as a liver detoxing immune-boosting medicine, and a powerful treatment for chronic pain, anxiety, depression and drug dependency. Kambo also increases stamina and strengthens the body. It is not psychoactive and is legal worldwide.
This powerful secretion contains  bioactive and neuro peptides that have the ability, unlike many other natural and pharmaceutical substances, to cross the blood-brain barrier and produce its effects at the level of the brain. They have the ability to bind to cell receptors in humans without difficulty and perform specific functions within the body that have a positive impact on it like activating your bodies own healing abilities.
Kambo is one of the strongest natural anti-inflammatory, antibiotic, antimicrobial and anesthetic substances found in the world and one of the strongest, natural ways to strengthen the system.
Kambo works on an emotional, spiritual and physical level.
Kambo is administered through tiny burns into the top layer of the skin. A "liquid bandage" called dragon's blood is put on after to help heal the marks. With proper care scarring is minimal.  
Kambo ceremonies usually last about an hour and a half to 2 hours with the medicine applied for 20-40 minutes. 
In Shamanic ritual, Kambo is used to bring about purification, clarity, strength and vitality. It is believed to be able to subjectively relieve warriors of dense energy, disease, addiction, pain and trauma, whilst increasing awareness and intuition. It does this by working on a physical, mental, emotional and spiritual level.
Arguably, almost all disease has a mental, emotional and energetic component. The word itself 'dis-ease', signifies the experience of disharmony or unease in one's life, as a precursor for imbalance. This is the central viewpoint of almost all holistic and alternative remedies. At our very base level, we are all composed of atoms vibrating in space, and although such energy may not always be seen or measured, it's effects and contribution are no less important.
The indigenous 'Panema', or dark energy, is seen as dense and low vibrational. It relates to depression, anger, trauma and pain. Many users of Kambo comment on the 'Kambo afterglow' post ceremony, which leaves you feeling lighter, clear, euphoric, calm and at ease.
Kambo is a chance to reset, reflect and reconnect.
Contact / Book Now
Where did Kambo come from?
The use of Kambo originated in the Amazon jungle by several groups of indigenous South American peoples. It was first discovered by the western world in 1986 by Peter Gorman, and investigative journalist that had been spending time with a native a tribe called the Matses.
Kambo or sapo as some call it, was initially utilized as a medicine to aid the hunters of the tribe, giving them increased endurance, stamina, visual acuity, increased hearing ability, a reduced need for food and water, and to mask their human scent to better sneak up on animals. It was often used in conjunction with a snuff called Nu-Nu to bring them visions of where their next successful hunt would be. It was also applied to women and children to treat various ailments such as malaria, parasites, snake bites and "panema" or bad luck.
About Danika
Hi beautiful soul! Welcome to Love Kambo. My name is Danika & I'd be honored to hold space for you in your healing & self discovery journey.
I have done a lot of my own healing the past 7 years through therapy, Tony Robbins, coaches, somatic therapist, breathwork, inner child work, reiki, Ayahuasca, Bufo, Iboga & Kambo.
Healing isn't a destination, it's a journey of learning to surrender, letting go of control, feeling our inner child wounds, releasing our pain, learning to love ourselves, letting go of self judgment & learning self acceptance of our selves and the world + more!
You're not broken or needing to be fixed. We come into this world already whole, worthy and enough. Life happens to us causing trauma, programming and fear that can keep us from being our authentic self. This work helps us remember our truth and coming back into our hearts.
It can be confusing at times & painful. You're stronger then you know! Many times we give our power away to others looking for healing.  Only YOU can heal yourself. ⠀
My job as a "healer" is to share my knowledge & create a healing space for YOU to show up and do the work. No one else is going to do it for you. ⠀
I want to help you empower yourself. Kambo is an AMAZING healing modality. It has helped me detox my body, release many trapped wounds & energies. Along with healing my gut from candida over growth and detoxing my body from breast implant illness.  I am forever grateful for this medicine & love to share it with you. ⠀
I get it... kambo brings up a lot of uncertainty and fear. That's normal! Our 'unhealthy ego' is grasping at everything and anything so that we stay as unhealthy, unhappy, unmotivated, as possible. ⠀
I am an Advanced Kambo Practioner & Reiki Master as well as former licensed nurse. I was trained in kambo by Rainforest Healing Center August of 2020. I have had 5 kambo teachers- one being a 9 month mentorship with Taylor Eyewalker. I have been to the jungle of Peru twice to learn from the Matses & connect with the kambo frog. I am able to serve kambo to people dealing with auto immune, lyme disease, alzheimer, cancer, clients coming off medications & other health issues. Its not as simple as just put points on someone. Clients that come to me are seeking deep emotional and physical healing. I provide Kambo healing primarily in the Austin. Kambo is a legal natural non-psychedelic medicine.
If you're wanting to heal on a deep emotional, physical and spiritual way, send me a message & we can begin your journey with kambo 🐸💚⠀
A portion of the proceeds from each Kambo ceremony will be donated to the Wilka T'ika Children's Fund.
CONTACT ME / BOOK NOW
What Are Kambo's Contraindications?
Kambo has no known detrimental side effects and is completely safe when responsibly administered. However, there are very few people who cannot receive a Kambo treatment:
•People under 18 years of age.
•Sat with Bufo within the last 4-6 weeks.
•Are pregnant or suspect they may be so.
•Women who are pregnant or breastfeeding babies under the age of 6 months old.
•Anyone with serious heart issues including past heart bypass operations.
•Anyone taking medication for low blood pressure.
•Anyone who has had a Stroke, Aneurysm, Blood clots or Bleeding in the brain
•Lack of the mental capacity to decide to take Kambo
•People taking medication for psychological reasons (except anti-depressants) need to discuss suitability in advance.
•Anyone with a history of psychiatric treatments or serious mental health needs to discuss suitability in advance.
•Anyone taking immune-suppressants for an organ transplant.
•Anyone with Addison's disease
•Anyone with Severe Epilepsy.
•Anyone recovering from a major surgical procedure.
•Anyone undergoing chemotherapy
CONTACT / BOOK NOW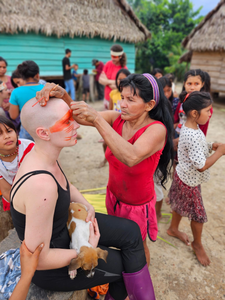 Disclaimer
Danika does not provide medical advice or claims. While clients do experience huge healing benefits of Kambo on the deepest levels, these experiences are anecdotal testimonials as with all holistic healing practices.